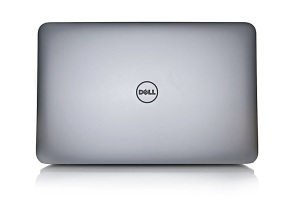 Toshiba Portege Z830 and now Dell XPS 13, it is raining ultrabooks in India these days. While, there is not much of a difference in ultrabook hardware specifications, it is the device aesthetics that keep on changing with manufacturers. Dell's entry in ultrabook arena XPS 13 seems promising with a nice design and the standard ultrabook internals but is it worthy of the Rs 79,990 price tag, we will find out in this review.
HardwareWhen you first put your hands on Dell's XPS 13, there is a surprisingly nice feeling to the overall ultrabook. Company hasn't gone for any lightweight or thinnest milestones thus giving it ample amount of space to build decent good looking and fairly sturdy device. Unlike Toshiba's Portege Z830, which we reviewed last week, XPS 13 feels comfortable in hand thanks to the rubberised deck and the carbon fibre weave on the base of the laptop.
Dell has taken various design cues from Macbook Air in XPS 13; it has same arrangement of ports, same hinge design and similar curves.
In terms of ports and jacks, there aren't many options here. You will get a USB 3.0 port, USB 2.0 port, mini-display port, and a headset jack. The SD Card slot is noticeably missing, which would irritate a lot of buyers.
Overall, we were pretty satisfied with the hardware of Dell's debutant ultrabook. Company has done a nice job in making it slick, solid and streamlined along with the keeping the premium feel.
Keyboard/Touchpad/Display
One of the most important elements of a laptop for anyone is the keyboard; after all you have to use the same keyboard for hours every day and luckily Dell's XPS 13 does not disappoint in that department. It has a backlit chiclet keyboard with nice cushy buttons. They do have sufficient depth for comfortable typing but some of you might take time in getting used to. The missing dedicated buttons for Home, Page Up, Page Down and End keys are the only worry.
Coming to the Touchpad, it is a slight letdown, this Cypress unit on the ultrabook is slow in responding to clicks. However, the Touchpad surface is nice and has got this soft-touch feel to it. It supports multi-touch gestures, but they are disabled by default, so you will have to go to the settings and enable to start using them.
Another issue with the Dell's XPS 13 is its display. First the facts, it comes with a 13.3 inch display with 1366x768p resolution, which is pretty much a standard among the ultrabook options in the country apart from the Asus Zenbook with 1600x900p or Macbook Air's 1400x900p display. Talking about the display, till the time you are looking at it head-on, things are well and good but once your viewing angles change, the colours start to fade and you get a washed out display. This issue is much more prominent when you are using XPS 13 in your lap, and because of the hinge you can't get the display flat enough and have to look down from the above.
Performance
The XPS 13, which we are reviewing today, came with 2nd Gen Intel Core I5 dual core processor, 4GB of RAM and 128GB SSD. These specs are more than enough for general day-to-day tasks and we got a snappy performance. XPS 13 did not give us any hiccups during our usual testing of browsing content heavy websites, playing 1080p videos, music or even working with the latest beta of Adobe Photoshop CS6.
Benchmark Results
PCMark 7
PCMark: 3477
LightWeight: 3752
Productivity: 3070
Creativity: 6753
Entertainment: 2536
Computation: 8957
System Storage: 5114
3DMark 06: 4104
Cinebench 11.5
OpenGL: 9.33fps
CPU: 1.89pts
x264 HD
First Pass: 58.73fps
Second Pass: 10.68fps
The boot times on XPS 13 are impressive thanks to the Samsung 830 SSD inside. We were able to perform a cold boot in 19 secs and wake up the laptop from sleep was almost instant.The graphic performance isn't earth shattering because of the on-board graphics, but you will have no issues in the normal tasks or full HD video playback.
Software/Battery Life/Heat
Our review unit came with Windows 7 Home Premium 64 bit and Dell has pre-loaded its own set of bloatware including Dell Datasafe, Zinio reader, Fastaccess facial recognition, and Support Center. Company has also bundled a trial version of McAfee Antivirus on the laptop.
During our testing, Dell XPS 13 gave us 4 hours of battery backup with full display brightness and using apps like Google Chrome, Tweetdeck, playing videos and music. It is way less than company's promised 8 hours of backup.
Dell also falter on another promise that laptop will be a lot cooler because of the presence of carbon fibre, but we did find it heating up at times. The fan is also placed oddly at base, which blocks proper air-flow when you are using the laptop sitting in bed or your lap.
Alternatives
There are quite a few ultrabooks currently available in the Indian market. You can also opt HP Folio 13 (Rs 69,990 - Core I5, 4GB, 128GB SSD), Asus Zenbook(Rs 89,990 - Core I5, 4GB, 256GB SSD), Lenovo IdeaPad U300(Rs 67,990 - Core I5, 4GB, 128GB SSD), Samsung Series 5(Rs 48,990 - Core I5, 4GB, 500GB HDD), Acer Aspire S3(Rs 49,990 - Core I5, 4GB, 20GB SSD+320GB HDD), Toshiba Portege Z830 (Rs 96,290 - Core I5, 6GB, 128GB SSD) and Macbook Air(Rs 73,900 - Core I5, 4GB, 128GB SSD)
Verdict
Dell XPS 13 shows a lot of promise, but is still way off from an ideal ultrabook. It scores in the aesthetics department, premium feel and decent performance, but is letdown by so-so battery life, no-so great display, and lack of ports. Pricing is another factor that needs a correction from the company. Given the choices that we have, Rs 80K price does not really present a great case.
For more pictures of the Dell XPS 13 Ultrabook please visit our picture gallery.

Pros
Great build/premium feel
Comfortable keyboard
Good performance
Cons
Lack of ports/SD card slot
Poor Viewing angles
Price: Starting Rs. 79,900
Specifications
13.3 inch WLED, 300-nit (1366x768) edge-to-edge display with Gorilla Glass
128 GB SSD or 256 GB SSD drive options
Intel Core i5 2467M and i7 2637M processor
Intel HD 3000 video graphics
4GB DDR3 SDRAM
Full size, backlit chiclet keyboard
47WHr 6-cell battery
USB 3.0 (1) + USB 2.0 with PowerShare (1), mini DisplayPort, and headset jack
Built-in 1.3MP webcam with dual array digital microphones
Microsoft Genuine Windows 7 Home Premium
Optional 100GB of cloud storage through Dell DataSafe